Data GeoService: enrich your geomarketing studies with relevant data
Your data is a goldmine, but it is not enough on its own: you need ready-to-use external data to make the best decisions while taking into account your environment and your market.
With Articque's Data GeoService, you have access to a large catalogue of relevant localized data to enrich your market, geomarketing and location studies… or to give a boost to your prospecting activities.
The bonus of this Articque GeoService? An intuitive interface designed for business users: naturally select and export your data, in only a few clicks.
The socio-demographic, company register and health care databases contained within the GeoService cover France.
Data GeoService: more than just data, a tool to make the most of it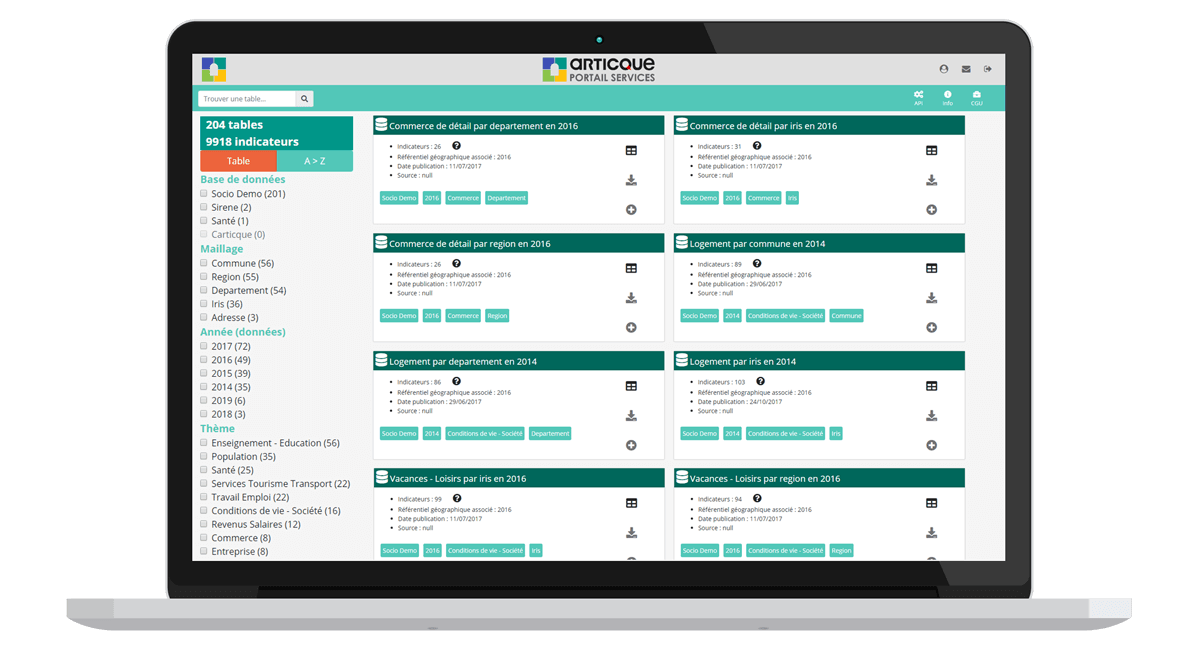 1
One single interface gives you access to numerous localized indicators
2
Filter the data you want to display according to subject, year, geographic breakdown…
3
A simple, intuitive interface designed for business users
4
Export your custom data file in .csv or Excel format
The Articque Data GeoService was designed to meet your strategic and operational requirements
You can access thousands of reliable indicators about your market, your clients and your competitors from a single interface to enrich your reflection. You get a ready-for-use data file to address your current issues, or to launch a new targeted prospection action plan, for example.
Why add external data to your geomarketing studies?
Everyday, you create and collect data generated by your activity, which feeds your daily reflections and analyses. But in order to make the best decisions while taking into account your actual environment and your market, you need to put things into perspective in order to get a 360-degree view. This is why market data is essential.
Socio-demographic indicators, thematic data or company register databases are so many essential elements to enrich your studies (market, geomarketing, catchment areas, potential…) and to make your decisions more reliable:
Locate your prospects and determine the commercial potential of an area,
Choose the best location for a new outlet,
Consolidate your territorial coverage against your competition,
Target your marketing actions to increase your return on investment…
Up-to-date, reliable databases
Our experts select key data from official, reliable sources for your studies. These thousands of indicators cover France and are available in their most recent version. Some of them are even updated daily!
Socio-demographic data, count data, company register database… Choose among more than 9,000 relevant indicators!
Calculate potentials with socio-demographic indicators
Study the population and the economic fabric of your territories thanks to this ready-for-use database based on the census carried out by the French National Institute of Statistics and Economic Studies (INSEE).
Get to know your clients' and prospects' socio-demographic profile better
Identify the typologies of your customers and discover territories with unexploited potential thanks to socio-demographic indicators:
This database also includes a count of companies per activity to let you carry out a comprehensive socioeconomic analysis of your territories
Our expertise as cartographers and statisticians
To make your geomarketing studies easier, Articque compiles data provided by the INSEE in a custom, ready-for-use file which requires no processing in a spreadsheet whatsoever. You can link it directly to your mapping solution, such as C&D, or to any other analysis tool.
The sociodemographic data contained in the Data GeoService is available at various levels: IRIS (a French acronym for 'aggregated units for statistical information' ), municipality, department, region.
Company register database
Assess the potential of your market by locating your prospects, competitors, resellers… A mine of information for all your strategic and geomarketing needs. Articque compiles and enriches for you the Sirene ® database, which concentrates the economic and legal information of 28 million establishments in France:
Give a boost to your prospecting activities
Get your prospecting file in just a few clicks ! You can identify and precisely locate the companies corresponding to your customers' profiles so as to target your prospecting activities in the right places. You have all the information you need to start prospecting : addresses, phone numbers…
Analyze your competitive environment
Assess the competitive pressure in an area by locating precisely all your competitors. This data is crucial to analyze the strengths and weaknesses of your network, study your market and display the catchment area of your outlets.
Our expertise as cartographers
To make your geomarketing studies and your prospecting easier, Articque enriches the data contained in the Sirene ® database with precise geographic information : x,y coordinates and IRIS codes. This allows you to directly link the file to your mapping solution, such as C&D, or to any other analysis tool.
The data corresponds to addresses so as to provide you with the highest level of accuracy. It is updated daily in the Data GeoService.
Articque offers you a comprehensive database of French health, social and medico-welfare facilities, and of the training facilities for these fields. These indicators are collected in the National File of Health and Social Establishments (FINESS), enriched with x,y coordinates and Territorial Hospital Group (GHT) breakdowns, then compiled into a single database to help you save time.
This data is ideal to carry out statistical observatories on access to care and for companies working with the health sector (laboratories, equipment manufacturers…).
Our expertise as cartographers
Since the FINESS database is broken down into several files, our experts compile them and enrich them with x,y geographic coordinates, IRIS codes and muncipality codes and GHT breakdowns in the Data GeoService. You can export your selection with no limitation to file size : your file is ready to be integrated into your mapping solution, or into your analytics solution, immediately.
Here is an glimpse of available indicators :
An epitome of our expertise in statistical mapping
Our cartographers and data specialists are constantly on the lookout to offer you the most recent essential data. Their mission consists in providing you with data supplied by reliable, official sources and in enriching it with geographic information. The x,y data included in the databases stems from the daily geocoding carried out by Articque. Rely on a recognized expert in statistical mapping since 1989 to carry out your geomarketing studies!
Do you want to learn more about the Data GeoService?
Fill in this form to contact our experts.
Enrich your analyses with our other solutions: